Previously we defined differences between OnShore, NearShore, and OffShore Software Development. In this post, we'll focus on how to go ahead with hiring Offshore developers and what to consider in the process.
Before we start, let's figure out what is an Offshore software development team.
It is a developer or a team of developers located far abroad.
Distinguishing features of such collaboration format might include:
Considerable time zone difference;
Different cultural heritage and mentality;
Greater variety of available candidates;
Lower hourly rates.
It is important to understand what team can be considered offshore for you. Traditionally Eastern Europe-based teams are offshore for the USA while teams from Latin America are nearshore. In the case of Western Europe, developers from Latin America are certainly offshore while teams from Eastern Europe are nearshore.
Therefore any region can become offshore depending on the customer's location. This article will be structured keeping this in mind.
What region to choose for offshore software development
The main objective of Offshoring is to optimize costs or to scale a development team when the company is limited by the local labor market. In this connection most frequently preferred regions for offshore software development are the ones having a great number of developers at low hourly rates: Eastern and Central Europe, Asia, Latin America, Africa.
Eastern and Central Europe
Region industry. The remote development market is developing fast here: many qualified specialists graduate from higher educational institutions and educational centers and offshore development companies thrive correspondingly. By various estimates about 900 000 developers currently work in the region. The professional level is quite high. As rated by Coursera Global Skills Index 2020 Belarus, Ukraine, Czech Republic, and Poland became leading world countries in learning Web Development, User Experience Design, Cloud Computing, etc.
Cultural context. Most countries of Eastern and Central Europe are considered as high-context cultures, however, some countries (for instance Poland, Belarus, Ukraine) become more low-context due to Western Europe's impact. People are concise and clear when delivering their thoughts, avoid ambiguity, but don't always show their attitude to the situation clearly. Employees are task-oriented, fulfill their duties in a timely manner, are ready for changes, and act out of logic.
Countries: Poland, Belarus, Ukraine, Czech Republic, Russia, Romania, Hungary, Estonia, Bulgaria, Macedonia, etc.
Review
Ideal for: Projects with tasks of medium and high complexity. European customers who need close project communication. North America and Australia if one daily status check meeting is enough. Projects seeking an optimal price for the quality ratio and are ready to invest time in search of candidates.
Asia
Region Industry. India is an Asian leader in offshore development. Tholons Releases 2021 Global Innovation Index lists it in the second position of top digital nations after the USA. Millions of developers are available in the Indian labor market. The fusion of a large competitive environment and low living standards resulted in one more peculiarity – low rates. The combination of these factors makes India one of the most attractive regions for offshore development. However level of education is still very low and India is in the 137th position among other countries according to Education Index 2020. The region is primarily attractive to offshore low-skilled labor.
There is a similar situation in neighboring countries like the Philippines and Pakistan for instance. China is primarily focused on the domestic market due to mentality and poor knowledge of English in the population.
Cultural context. Asia is referred to as a high-context culture. Such features as emotionality, and complaisance make communication quite complicated. Vague and ambiguous wording and avoidance of directly saying 'no' to a customer are common for negotiations.
Countries: India, China, Philippines, Bangladesh, Vietnam, Malaysia, Indonesia, Pakistan, Shi-Lanka, etc.
Review
Ideal for: Simple and routine tasks and projects requiring fast scaling. Projects requiring cutting costs.
Latin America
Region industry. The IT industry in Latin America is growing fast. Internet became available for the general public and 78% of the population actively use it nowadays. The number of people engaged in the IT-sphere is growing and only Brasil has about 2 million. High demand for software development coming from the USA is one of determining factors for fast growth. Attention from companies in other countries to the Latin American region is also increasing.
It is worth considering the shortage in the technology stack. Coursera Global Skills Index 2020 research states that Latin America is in the last position among world IT regions in terms of mastering Computer Networking, Databases, Human-Computer Interaction, Software Engineering, Security Engineering, etc. The problem is locally understood and in Colombia, for instance, the government covers up to 80% of educational costs for students of IT professions. However, the problem is still actual.
Cultural context. Latin America is considered to have high-context culture. Several activities can be performed simultaneously, quite often deadlines are missed. Premises and commitments are covert, tone of voice, gestures, and pauses made within the conversion matter.
Countries: Mexico, Brasil, Argentina, Chile, Colombia, Costa Rica, Panama, Peru, etc.
Ideal for: Projects from North America where communication during the day is important and customers are willing to pay extra for it.
Africa
Region industry. Recently Africa appeared on the map of offshore development. The active growth of the IT sector is primarily happening in South Africa. Country government invests a lot into the development of IT sector. Foreign partners can take advantage of tax privileges. In addition, a currency exchange rate (USD/ZAR 1:14) helps to reduce costs for the external development team. A high level of English being one of the state languages is another benefit that attracts foreign companies.
The technological development of other African countries is still in progress however experienced developers can be already hired in Egypt and Kenya. French customers often work with Morocco and Tunisia due to their good knowledge of French.
Cultural context. Africa is also a culture of high context. Communicating keep in mind that developers might not always clearly answer your questions and suggest their ideas.
Countries: South Africa, Kenya, Nigeria, Egypt, Morocco, Tunisia, etc.
Ideal for: Small and middle-size projects of low complexity. Customers that need a high level of English and French.
Offshore regions pivot table
---
Where to find an offshore developers
After choosing the region it's time to understand where to find offshore software developers.
First and foremost define the hiring format that suits you best. There are three options:
InHouse Developer;
Freelance Developer;
Dedicated (On-demand) Developer.
In-house vs Freelance vs Dedicated Software Developers
You can learn more if you are not familiar with the classification.
jaydevs.com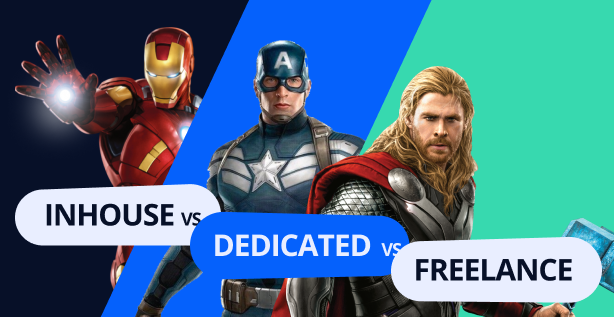 The format determines where you are going to search for offshore software developers.
InHouse Developer. LinkedIn can become the main source for this format. This social network has been designed to facilitate professional contacts. Here you can find and filter companies and developers by geographical location, work experience, position, technology, projects, etc.
Freelance Developer. Freelance platforms are the main web spaces to find freelancers. Here you can study CVs of developers, their rating, feedbacks, and rates (hourly and fixed). Most platforms require paid accounts to leave task fulfillment requests and get access to full candidate information. Examples: UpWork, Toptal
Dedicated (On-demand) Developer. There are specialized ratings and reviews platforms listing companies that offer services of on-demand developers for your project. Platform catalogs enable categorization of vendors, provide reviews, accomplishment records, approximate hourly rates, information about company size, tech stack, etc. Examples: Clutch.co , Goodfirms.co
Hire Dedicated Developers You Need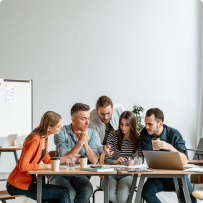 Read our blog article How and Where to Find Software Developers who Meet your Needs to learn more about where to search for required professions.
---
What to consider when hiring offshore developers
Say you have found a contractor. Now is the right time to study legal and economic peculiarities in that country. After that peculiarities of the contractor company or a developer. And only after that start drawing up a contract.
Country level
Taxation. The specificity of tax regulations can considerably impact the final cost of the project. Much depends on the workflow and if it is a software development contract or a license agreement. The absence or presence of a double tax treaty between the contracting parties also matters.
When hiring an offshore developer find out what kind of agreement should be signed – employment or independent contractor agreement as tax rates depend on it. When drawing up a contract it might be reasonable to note that services are performed outside of the country. By doing so you don't become a revenue agent and are not subject to insurance payments.
Money transfer. Foreign money transfer costs depend on the type of payment – a wire transfer to a bank account or online payment (PayPal, Payeer, etc.). Transfer fees are different and depend on the recipient country and the amount of transfer. Keep in mind that for international transfers double conversion can occur quite often: when the money is wired off the funds it is converted at VISA/Mastercard payment system rates first and then is converted to the local currency of the beneficiary's bank. For instance, GBP – USD – RUB.
Jurisdiction. In the case of international cooperation, disputes between the customer and the contractor can be adjudged in the court of the country of one of the parties as well as in international commercial arbitration. Usually, the contract specifies which court will resolve the disagreement if they arise. Keep in mind that the legal and judicial systems differ depending on the country and, therefore, a thorough study of the legislation of the contractor's country is required if the agreement states local court for litigation.
Contractor level
Operational guidelines in agreement. When drawing up a contract with an offshore team several crucial points should be considered. First of all terms of payment: principles of payment (hourly rates, fixed price, monthly payments, etc.), how money is paid (bank account, PayPal, etc.), when payment is made, who and how pays taxes and transfer fees. Secondly terms of work acceptance: who and when is responsible for acceptance and hand-over of work, deadlines for hand-over, measures of performance, trial period availability.
3 Most Popular Pricing Models In IT Industry
Read more about popular pricing models in our article.
jaydevs.com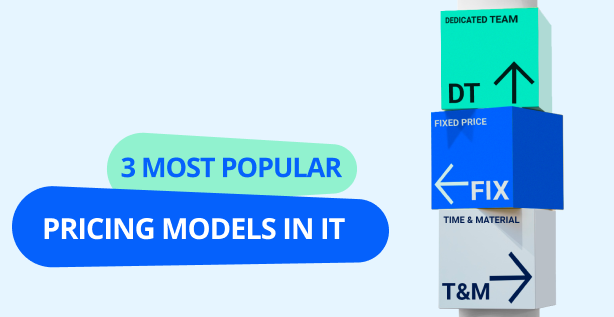 Confidentiality. Don't forget to sign a non-disclosure agreement (NDA) to avoid confidential information leaks. It is better to sign it at the negotiations as you will share the idea and details of your project at this stage.
Technical security. It is crucial to set IT infrastructure security – protection of information from viruses, hacker attacks, spyware. It should include protection of cloud environment, end devices, applications, Internet security, etc. Such a system is needed to keep data integrity and confidentiality. Make sure that the company works in compliance with international security standards (ISO, ITIL, ITSM).
Code access. It is important to have access to the latest code version so that in case of a conflict or other emergencies developers couldn't refuse to provide it. You should necessarily discuss mandatory access to the latest updated code version of your project before you sign an agreement.
Intellectual property. It is important to understand what kind of intellectual property (trade secret, copyright, patent, trademark) you are dealing with and how you are going to handle its transfer. In the case of assignment of rights you are given a previously created code and in the case of work-for-hire a customer has rights for the code once it is created or paid for. Either way, an author of the code can't share it with a third party or use it at sole discretion. Sometimes IT rights can remain belonging to an author when it is about personal creation integrated into a project. However, this should necessarily be written in the agreement.
Early agreement termination. It is better to draw up the contract in a way providing a chance of early termination for both parties with prior notice preferably. Often, upon the termination of the agreement, the contractor is paid for the accomplished work (if stater in the agreement). Terms violation is usually followed by penalties and in the worst case, they go to court.
---
Cheatsheet
We understand that a lot of information was provided, and, therefore, the most important things to remember when searching and hiring offshore developers will be listed below.
In most cases working with an offshore team means:
Considerable time diference;
A large pool of candidates;
Lower hourly rates;
Cultural differences.
Main offshore regions and their peculiarities:
Eastern Europe – optimal cost-quality ratio, high professional level.
Asia (India primarily) – millions of developers, the lowest rates but potentially the lowest quality of done work and difference in mentality.
Latin America – plenty of developers, currently limited tech stack, the highest rates compared to other offshore regions.
Africa (SAR primarily) – emerging offshore region, limited tech stack, average rates, good level of English and French.
Places to search for software developers depend on the hiring format. InHouse Developer can be found in LinkedIn, Freelance Developer on freelance platforms, а Dedicated (On-demand) Developer are hired from providers.
When choosing an offshore partner except hourly rates consider the time difference. Study legal aspects of the offshore country and internal principles of the contractor including:
Taxation, wire transfer specifics, and settlement of legal arguments on the country level;
Data privacy, intellectual property rights, operational guidelines, and cooperation termination terms on the company level.
This is it. You are armed and ready now. The end.