Business digitalization percent keeps on growing every year and along with it the requirements for digital products. It is becoming more challenging to find strong software developers for your project. We have prepared a cheat sheet containing methods of search you might have not considered.
Below we'll discuss where to find a developer:
Looking for full-time software developer
Personal advice
The essence of the method: ask your acquaintances if they have candidates to recommend.
How it works: ask your workmates from your current or previous job.
If you are active on social networks – create a post with a search ad. Ask people you know to share it. Ask them to ask their friends to do the same. By doing so you'll get considerable coverage with minimal effort.
Examples:
Pros:
You have real feedback about the candidate's work;
It is for free;
It is easy.
Cons:
Number and variety of candidates is limited by your friendship network;
It can take time while the information is being shared.
Job aggregators
The essence of the method: post a vacancy on job search portals or refer to the database of available candidates.
How it works: post a vacancy, interview candidates that respond, and choose the one you like most. In case of few responses, you can refer to the portal CV database. Each CV is created by a candidate. When searching, you can filter candidates by:
Region;
Experience;
Job title;
Skills;
Special features.
CVs contain contact information, therefore you can easily contact a candidate directly or via the portal itself.
Popular job aggregators: Angellist, Dice, Monster, Indeed, Glassdoor, etc.
Examples:

Pros:
Interested candidates respond to the vacancy;
Broad coverage including different regions on demand.
Cons:
A small cost of posting a vacancy and getting the database access;
Hiring and selection takes much time and resources.

A vacancy on the company website
The essence of the method: post a vacancy on your website. Potential software developers can be among the visitors. If people know about you, candidates will reach out themselves. However, you need a strong brand identity for this. Pay for relevant keywords traffic in Google Ads if you lack visitors (or developers among them).
How it works: when a developer is looking for a job he enters a search query similar to this: "javascript developer jobs". You can pay Google to show your vacancy ad linked to your website higher up in the SERP results. You pay only if a person clicks on your ad and gets to your website. This is called contextual advertising or PPC advertising).
Create a list of keywords a required developer would most probably use when searching for a job. Set up Google Ads or Bing Ads for these keywords, so that a visitor gets to your vacancy page.
Examples:
Pros:
Your ads become visible right after the launch of an advertising campaign;
Ads (vacancies) can be targeted to a specific region, in the required language, and indicating required technologies;
Having a budget, you can show your ads to everyone who is looking for a similar job at the given moment.
Cons:
Competition for the search results with other job aggregators can increase the cost per click, especially in the IT industry, resulting in a high overall cost;
The process can take time if there are few queries;
Certain knowledge and skills are required to set up contextual advertising campaigns (or hire contractors to do this job for you).
Professional recruiters
The essence of the method: contact professionals searching and recruiting candidates.
How it works: recruiting agencies will take care of everything: create a persona of the ideal candidate, check the candidate databases, sort through incoming applications, sieve away incompetent applicants, and interview the most appropriate candidates.
As a result, recruiters will provide a shortlist of the best candidates and all you have to do is make the final decision.
Examples:
PaGegroup, Hays, The Adecco Group, Robert Walters, Randstad, etc.
Pros:
No need to build recruiting processes, you can focus on the core processes of your company;
Enables incognito hiring when recruiters choose candidates on their behalf.
Cons:
High cost of recruiting services;
Intermediate control over the hiring process is delegated to a third party.
LinkedIn
The essence of the method: find suitable candidates in the LinkedIn professional social network and invite them to an interview.
How it works: LinkedIn — is a social network for business communication, search for employees and open vacancies where user profiles are CVs.
Use search to find a suitable candidate. For better quality and speed of the search, apply filtration by country(city), job title, skills, company a candidate works for, a university a person graduated from, etc.
Apply several criteria at once for a more precise search.
Study profiles you are interested in. Pay attention to candidates who are currently looking for a job: #OpenToWork on the avatar or "Looking for work" in the job title.
The profile contains more information about the potential candidate: personal introduction, previous jobs, experience, education, languages, certificates.
Once you have selected a sufficient number of candidates, simply "connect" with them and write a message about the vacancy you have.
Don't worry if people don't get back to you as in LinkedIn they can get dozens of messages daily. However, people who are looking for a job will most likely reply to your message.
The number of people you reach out to is what matters when finding candidates on LinkedIn. Don't give up and it won't take long to get the result.
LinkedIn has developed special paid services with advanced features for companies that recruit a lot and often. These services provide more advanced filtering, have no limits for connections, and other options that facilitate hiring big numbers of employees. Learn more about these services on the LinkedIn Recruiter page.
Examples:
Pros:
Flexible filter settings allow you to find the candidates you are looking for;
It is for free;
The considerable pool of professionals: by 2020 the total number of LinkedIn users reached 675 million, of which 310 million are active users (source Wikipedia).
Cons:
Requires much time and effort;
Candidates may distrust your messages.
Vacancy in social networks
The essence of the method: promote your vacancy through social networks advertising (Facebook, Instagram, etc.).
How it works: post the vacancy of a developer on your website. In your advertising account, set the audience you want to show ads to. Determine who will see your ads applying filters: geo-targeting, demographics, interests, behavior, etc. You can set payment either for clicks or expressions. You set the budget yourself, but keep in mind that the smaller it is, the fewer people will see your ads. This is called targeted advertising.
How to Advertise on Facebook: Complete Facebook Ads Guide for 2021
Examples:
Pros:
Significant coverage;
Flexible settings of the target audience;
Additionally increased your HR-brand awareness.
Cons:
Social media marketing skills are required to set advertising campaigns;
Requires considerable expenses, however less in comparison with Google Ads.
---
Looking for a developer for one-off jobs
Freelance platforms
The essence of the method: post a vacancy or choose the required professional from the platform's database.
How it works: platforms are conventionally divided into two groups: general and niche. General platforms provide specialists and services for all kinds of work. Niche platforms are created specifically for finding freelancers in a certain domain, for example, software development.
When choosing a contractor pay attention to ratings, reviews, and previous projects – all this data is available on the platform.
Platforms offer to close deals on the platform itself: you deposit the remuneration sum, the freelancer accomplishes his work and gets the payment only after your confirmation.
You can work directly without having a platform as an intermediary, but in this case, you bear all the risks.
Examples:
Pros:
Great variety of candidates allows to quickly find a contractor;
Great choice of specialists for any task;
Suitable for any budget.
Cons:
A large number of low-skilled specialists;
High probability to encounter an unscrupulous worker: missed deadlines, a lot of fixes and tweaks, loss of the advance payment together with the specialist.
---
Looking for a developer for the quick start (team scaling)
Dedicated software developers
The essence of the method: you consult a provider company offering services of on-demand developers. You can find them in the specialized catalogs (clutch, goodfirms, designrush) or simply in Google.
How it works: the provider company presents you the list of manually selected and assessed software developers. You pick the required one and sign an agreement with this company. From now on, the developer fully works on your project, and you pay the provider for this service. You fully control the work of the developer, starting from acceptance of the task and till the moment when it is accomplished. You can hire any number of developers for any period of time.
Examples:
Pros:
It is fast: software developers are selected and assessed. You just need to pick the required one;
It is more cost-effective compared to hiring developers on staff;
Competencies of developers are above average;
A provider company bears responsibility for a developer: it can replace a developer and compensate losses.
Hire Dedicated Developers You Need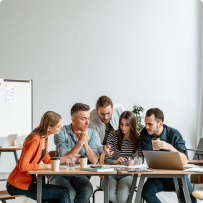 Cons:
A developer doesn't work directly for you;
A provider company may lack vacant software developers.
---
Looking for new perspective employees
Software developers communities
The essence of the method: find resources where software developers share their experience and observe. Invite those who have impressed you for a chat.
How it works: in talks, publications, posts, etc. developers share their knowledge, life hacks, and ways to address issues. Through the content, you will understand the level of the developer and whether your team needs this person.
Where to look for?
Conferences and meet-ups;
Hackathons;
Forums;
Developer communities in messengers;
Publications of developers in their blogs and media.
This technique is a great supplement for other ways of search:
You can check if the picked developer has searched for his publications on the internet;
You can post your vacancies in developer communities.
Examples:
Pros:
The content reflects the competencies of a developer;
Additional opportunity to screen potential candidates;
Additional coverage for your vacancies.
Cons:
This method requires much time and effort;
This method has a delayed effect.
Working with students and graduates
The essence of the method: get in touch with higher educational institutions preparing software developers.
How it works: graduates from universities can become valuable staff members for your company: motivated, bringing new ideas, willing to learn, proactive. There are several ways to find a developer from the students:
– Host a special event at the university. Tell them about your company, benefits, perks for employees, salary level, job specifics, and interesting projects. Leave contact information for students interested in vacancies;
– Invite students for on-the-job training. This will enable students to check their knowledge in the real business environment, and allow you to choose the best;
– Ask university representatives for permission to be present at defense of graduation works. This is a great opportunity to observe candidates in action: check competence degree when answering questions, manner of behavior, and stress resistance.
Examples:
Pros:
You can see potential candidates in action;
Potential candidates are highly motivated.
Cons:
Continuous hiring process;
Search for future perspective;
Candidates for only trainee and junior positions;
The necessity to arrange collaborative events with universities.
---
Takeaways
Let's sum it up.
Need full-time developers on staff: ask your acquaintances, place vacancies on aggregators, on your website, and in social networks, start paid ads campaigns to ensure broader coverage.
Need developers for one-off jobs: search on freelance platforms.
Need developers fast: on-demand developers (a.k.a. dedicated developers).
Need new talents: work with higher educational institutions, follow authoritative sources in the domain.
Our company provides remote

engineers to help develop your products
91%
Customer Satisfaction Index