Outsourcing in general and hiring a dedicated team in particular is a strategic decision. Therefore, it is worth focusing on the factors impacting the choice of the country IT service providers are located in. Both qualitative and quantitative factors should be considered when choosing a vendor.
These factors include location, culture, language, business environment, economical aspects, politics, etc. In this article, we will study these aspects by taking Lithuania as an example and help you avoid doubts on whether to hire Lithuanian developers.
Reason #1. Location and NATO/EU membership
Lithuania is located in the northeast of Europe and is one of the three Baltic States. This region is very close to many European countries such as Finland, Sweden, Denmark, Poland, Russia, Hungary, Belarus, Germany, Norway, etc.
Lithuania has a population of 2.8 million and is a member of the United Nations, the Organization for Security and Cooperation in Europe, NATO, the European Union, etc.
Membership of the state in EU and NATO means:
following the same banking regulations, employee rights, tax, and other legislation aspects as other EU members;
fewer regulatory and legal issue to address;
easier and more seamless payment for the services of a dedicated development team due to Euro as a unified currency;
compliance with the GDPR and making other data security and intellectual property (IP) concerns less important.
---
Reason #2. No fuss with time zones in Lithuania
Coordination of time zones is another important aspect to consider when working with dedicated development teams. Effective workflow might be at risk when time difference is significant.
Eastern Europe is in a convenient time zone. For instance, there is almost no time difference with European countries (1 to 3 hours). The difference with the East Coast constitutes 6-7 hours.
Time and date service can help you learn more about the time difference between Lithuania and your country.
---
Reason #3. Stable economic and political situation
Lower costs are one of the main reasons to hire a dedicated development team. However, the political and general economic stability of the vendor's country is something you should also consider. Threats of terrorism, political relations between the countries, international boycotts, sanctions, etc., can interrupt collaboration with development teams.
Economic situation in Lithuania
Stable economy – controlled growth of gross domestic product (GDP). Managed growth means that the economy has continuous growth without causing inflation leading to higher prices and negatively affects the profits of companies.
The economic sustainability of the country to hire a dedicated development team is vital for the success of your business. If the country is not economically stable, then the economic benefit is rapidly reduced due to inflation and subsequent increase in developer salaries. In the case of Lithuania, there is nothing to worry about. Lithuania's economic growth remains stable.
According to Country Economy, Lithuanian GDP grew by 4.9% in 2021 compared to 2020. Lithuania ranks 77th in terms of GDP out of 196 countries, and 42nd in terms of GDP per capita. Lithuania's GDP per capita in 2021 was $23,442. This is $3,467 more than in 2020. These data indicate that the Lithuanian economy is stable and recovering quickly from the negative impact of the Covid-19 pandemic.
Lithuania ranks 17th in the list of countries with the highest index of economic freedom out of 161 countries. Additionally, the chart below presents criteria compiled by the International Institute for Management Development (IMD). The criteria highlight the biggest improvements and declines in the overall performance of the economy in Lithuania.
Political situation in Lithuania
The state stability index is an indicator that characterizes the ability of the authorities to control the integrity of their territory and neutralize negative external impacts. Negative impacts might include international terrorism, sanctions, political pressure, misinformation, threat of force, etc. Such negative impacts can bring the political system into a state of extreme instability and even destroy it.
Often, outsourcing countries are located in regions with not very high security. Therefore, a security assessment and political stability in particular is essential to avoid unforeseen circumstances. If the dedicated team provider is located in a country with significant instability and conflict, the progress of your project can move slowly or stop completely.
According to the World Bank, Lithuania is quite stable politically and is improving its indices. Additionally, check other interesting indicators speaking in favor of stability in Lithuania.
---
Reason #4. High ease of doing business
Business success is determined not only by its leader and the team, but also by the context and environment of the country's business and investment climate. To assess the ease of doing business and the overall level of the business climate, study the World Bank Ease of Doing Business Index.
The latest Ease of Doing Business in Lithuania report was published in October 2019 and covered 190 countries. According to the World Bank, Lithuania ranks 11th in the world in terms of ease of doing business and is considered a developed country.
Business environment safety is confirmed by the success stories of companies having successfully relocated or expanded their business in Lithuania. There are more than 450 start-ups and offices of 13 of the 20 largest multinational companies in the country: Google, Western Union, IBM, Nasdaq, etc. Over 2,500 technical professionals are engaged in more than 2,500 technicians. Many IT companies in Lithuania develop software and provide services for large European countries.
The IT market is quite mature. Many successful startups entrust Lithuania to develop their own software and get the best results from the long-term perspective.
---
Reason #5. High level of innovation
The main reason why so many tech and IT startups are flocking to Lithuania is partly due to its high-quality infrastructure and the favorable business environment. Lithuania is a technology hub with access to the EU and neighboring countries.
In terms of innovation, Lithuania is among European leaders in information technology:
Therefore, outsourcing application development to Lithuania, will ensure your project being handled in a highly developed environment with advanced IT infrastructure.
---
Reason #6. High level of english proficiency
Since English is the language of international communication, fluency in it is crucial. This is especially true in software development. Almost all the terminology for senior software developers is based on English syntax: libraries, repositories, tutorials, manuals, etc.
Insufficient English can result in communication issues between a client and a dedicated development team. Team leaders, project managers, and all developers should have advanced knowledge of English.
According to the EF English Proficiency Index, Lithuania ranks 24th with high English proficiency among 100 countries and regions. In addition, almost 50% of the population in Lithuania speaks at least two foreign languages.
Hire Dedicated Developers You Need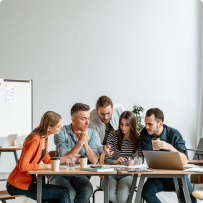 ---
Reason #7. High-quality education
Lithuania is one of the most educated countries with the highest proportion of university graduates among people aged 25-34. 56% percent of the population has higher education. This percentage guarantees hiring not only highly qualified, but also educated developers.
---
Reason #8. Strong technical education
Developers from Lithuania possess core skills and expertise for leading projects in the field of artificial intelligence, machine learning, augmented reality, virtual reality, websites, mobile applications, internet of things, and many more. Tech-savvy developers make Lithuania a new hub for software development solutions.
The Lithuanian government aims at STEM education development. Lithuania is the leading country in the Central and Eastern Europe region in terms of research and development collaboration between universities and business. It also ranks 2nd in the world for "higher education performance" according to Bloomberg.
The Ministry of Economy and Innovation of Lithuania puts much effort into expanding the local IT professionals pool. The post-graduate retraining program aims at the graduation of 2,000 software developers and other IT professionals by the middle of 2023. As a result of this program, software developers highly proficient in cybersecurity, cloud computing, artificial intelligence, etc., will become available on the market.
---
Reason #9. Extensive talent pool
It is challenging to find highly skilled developers in the labor market, since they rarely stay unemployed for a long while. Additionally, their rates are high, which doesn't really align well with the objective to cut costs through IT outsourcing.
State of the Developer Nation report ascertains that there were 26.8 million software developers worldwide at the end of 2021. Experts predict growth in the number of developers, reaching 45 million by 2030. Lithuania has an expansive talent pool of IT specialists:
Lithuanian programmers can develop web and mobile projects, support new and existing projects, test software, design, etc. Invest Lithuania presented the most popular categories of developers in Lithuania. They include:
---
Reason #10. Variety of expertise
Most applied programming languages in Lithuania demonstrate overall global trends and customer demand for development. Top six most popular technologies in Lithuania list Java, SQL, JavaScript, .NET, C#, and Python.
---
Reason #11. Cultural compatibility
Although cultural impact is not obvious, it has a lot to do with business in general and employment of dedicated teams in particular. Cultural orientations are vital to understand the country and people inhabiting it. It is the culture of the country that shapes the beliefs, norms, and life perceptions in general.
People sharing the same cultural understanding find common language way easier and faster. Unlike people having different mental archetypes.
Lithuania has roots in European culture and shares common traditions, behavior, and work ethic. This cultural similarity results in affection among European countries. Therefore, communication between Lithuanian developers and customers from other European countries is quite natural and smooth.
The diagram below illustrates Lithuanian culture. The data provided is based on analysis of major studies: ESS, Hof, SVS, WHR, and WVS.
---
Reason #12. Low rates – High skills
Of course, cutting costs is the core, but not the main advantage of hiring remote developers. Many clients think that all countries and software development outsourcing companies provide the same services, just at different rates. This is not true. Every country has a different education system, and companies differ in their resources and expertise. Which means that the quality of dedicated development services provided in different countries varies. Your job is to find the best value for money ratio.
Compared to North America or Western and Northern Europe, the rates of developers from Lithuania are much lower, and the talent pool of specialists is large.
The average hourly rate for software development in Lithuania ranges from 22 to 45 euros, while the average software developer monthly income is around 2700 euros.
Surely, there are countries with even lower rates (Vietnam, India, Africa), however, developers at coastal prices will not provide the same array of IT skills and expertise. The cost of living in Lithuania is considerably low, while the level of education is high. In addition, you get great access to the latest technology stack.
---
Reason #13. Lithuanian IT industry in numbers
Some more facts to prove that hiring a dedicated development team in Lithuania is the right choice:
---
To recap
Analysis of the above-mentioned factors worth considering while choosing a country to hire a dedicated development team from, results in conclusion that Lithuania provides a favorable context for cooperation.
The model of hiring a dedicated team is a business strategy, not a miracle. Business strategy is related to all aspects of life: cultural, social, economic, political, etc. Having analyzed all these aspects and provided you with research data, statistics, and reports, our article has proven that hiring dedicated developers from Lithuania might become a successful strategic decision.