Businesses often opt for outsourcing and outstaffing strategies to meet growing software development needs, thereby avoiding the complexities of in-house employment.
More specifically, the outsourcing model involves delegating your project to a third-party service provider for implementation, while the outstaffing model revolves around hiring remote developers and engineers to extend your existing team. At first glance, these approaches seem pretty simple, right?
However, deciding between outsourcing vs outstaffing requires careful consideration of critical business factors. These factors usually include project type, scope of work, team management and control, and nature of engagement with IT service providers.
In the following guide, we explore these and other significant factors to identify what option would better meet your business challenges — outstaffing or outsourcing.
What are Your Project Needs?
Before diving into the outsourcing vs outstaffing debate, it's essential to identify the current project objectives and pain points you may struggle with. This would help you establish the major evaluating factors to compare these two strategies.
Rapid Scaling and Meeting Project Deadlines
Increasing project demands, such as expanding features or enhancing CI/CD pipelines, may overwhelm your in-house teams with excessive workloads. To keep up with project growth and meet the required timeframes, you may need high flexibility while cooperating with the vendor.
Key factors to consider when choosing between outsourcing and outstaffing:
Speed of addressing your needs,
Flexibility and adaptability to changing requirements,
Scalability of the team on demand.
Software Product Customization to Meet Clients' Needs
When your product receives unique requirements, like customized features or third-party integrations, you may require not just an extra hand. Instead, this case necessitates engaging niche specialists and a high level of project control.
When choosing outsourcing vs outstaffing for product customization, consider the following factors:
Project scope and complexity,
Timelines (established and evolving),
Budget constraints,
Management and control terms.
Product Improvements for Better Competitiveness
Lagging behind competitors often results from outdated tech stacks or features. In this scenario, cooperation with the IT vendor should provide swift innovation of technology choices while maintaining your product vision.
Therefore, the major points to take into account when deciding on the appropriate collaboration model include:
Project scope,
Budget available for project development,
Communication and control terms.
Product Maintenance
When your product is on track, tasks like regular bug fixes, updates, and ongoing support may take valuable time. This scenario may require a seamless transfer of such tasks to the contractor while ensuring continued product quality.
When choosing outsourcing vs outstaffing for maintenance, pay attention to the following aspects:
Transition terms,
Budget allocation (fixed and flexible),
Management and control terms.
New Product from Scratch
Creating a new product from the ground up demands assembling a skilled team and defining a clear development strategy. In this case, the choice between outsourcing and outstaffing will mostly depend on whether you have in-house professionals and expertise available.
Significant factors to foresee for software development from scratch include:
Availability of in-house specialists/resource allocation,
Project scope and complexity,
Timeframes,
Available budget.
With these essential considerations in mind, let's consider a one-on-one comparison of outsourcing and outstaffing.
---
Software Outsourcing vs Outstaffing: Key Differences
Each model offers distinct advantages based on the specific project needs and the desired outcomes. This is why the decision between outsourcing and outstaffing plays a pivotal role in shaping the trajectory of your company.
To provide a clearer understanding of outsourcing and outstaffing models, we've crafted a comparative breakdown, focusing on core strategic aspects of software development:
In summary, outsourcing software development allows for entrusting the entire project or its significant components to a third-party team. In doing so, it reduces operational costs so that business owners can concentrate on core business processes. It's like a "one-time share" approach that assists in delivering a definite result.
Alternatively, outstaffing, also referred to as development team augmentation, offers flexibility, precise progress control, and a collaborative project environment. By reaching out to outstaffing companies, businesses can augment their current teams as necessary and stay on track with evolving software endeavors.
---
Types of IT Projects for Outsourcing and Outstaffing
Aligning unique challenges and goals is undoubtedly key to choosing the most effective software development approach. Nonetheless, it could be helpful to note industry best practices and accumulated experiences of other businesses.
The outsourcing model often aids companies in delegating unnecessary complications of some IT projects. For example:
Prototyping and Minimum Viable Products: Outsourcing allows for testing new product ideas faster. Outsourcing companies allocate dedicated teams to deliver the required product versions within deadlines. Meanwhile, your team can keep focusing on the most strategic aspects.
Data Analysis and Business Intelligence: These projects are often intricate and require a specialized team of engineers and data scientists. Outsourcing enables businesses to tap into external expertise, reducing time-to-market and overall costs.
Banking and Finance Solutions: By allocating fintech projects to specialized providers, companies strive to cover complex regulations and stay compliant with changing laws. Such providers offer specialized expertise in critical areas like anti-money laundering (AML) and know-your-customer (KYC) procedures.
Healthcare Projects: An outsourcing company specializing in healthcare product development can effectively contribute to better regulatory compliance. Such companies can also manage the technical intricacies typical within the healthcare domain (e.g., 3D modeling, and big data analysis).
Outstaffing, in turn, helps mitigate the "unstable" software development landscape. For example:
Mobile and Web App Development: The ever-changing user preferences and market dynamics require flexibility. Outstaffing frontend or backend developers enables timely team adjustments to meet these changing needs.
E-commerce Platform Development: Building and maintaining e-commerce platforms requires continuous updates, enhancements, and scalability. Outstaffing allows businesses to set up a flexible team, regulate the involvement of remote developers as needed, and manage the software development process..
Custom Development for Startups: As the IT outstaffing model is highly flexible and scalable, startups can effectively allocate their resources. By extending teams quickly, startups can launch faster and scale effortlessly if successful.
Legacy System Migration and Maintenance: Businesses may lack time and a precise understanding of what should be changed in a system. Сompanies can receive both an experienced side view and a streamlined software update by scaling internal teams with remote experts.
These are a few examples of how companies benefit from outsourcing and outstaffing in various project scenarios. By relying on these specific experiences, business founders can more confidently chart their course toward successful project implementation.
Note: For non-tech companies or those without in-house software development teams, outsourcing is considered the preferred choice. In contrast, outstaffing is an optimal strategy for tech companies lacking certain skills or requiring extra "hands" right away.
---
Main Advantages of Outstaffing Compared to Hiring In-House
In today's business landscape, organizations are increasingly relying on IT staff augmentation through outstaffing companies. Unlike recruiting agencies seeking permanent employees for your company, outstaffing vendors have a pre-vetted pool of tech professionals ready to be integrated into projects for urgent tasks.
Let's look at the key reasons why companies prefer outstaffing services over the traditional in-house hiring model.
Speed and Ease of Scaling
As your project progresses and workloads fluctuate, scaling the team with in-house engineers may hold your project back. The reason is simple — in-house hiring often involves lengthy recruitment and onboarding processes.
Alternatively, when contracting with an outstaffing agency, you can quickly and flexibly adjust your team size in response to changing project demands.
Reduced Risk
For rapid business growth and taking on new projects, expanding your in-house team can be a gamble. It involves long-term commitments and legal obligations while still not guaranteeing the hired employee is a perfect match.
Outstaffing, on the other hand, allows you to hire specialists with the expertise you need without long-term financial or legal commitments. Moreover, if remote specialists don't fit your project for some reason, you can request your contractor for a replacement.
Cost-Effectiveness
Hiring in-house employees entails direct and hidden costs, such as salary, benefits, workspace, equipment, and ongoing training expenses, which can add up significantly.
With outstaffing, you eliminate many of these overheads by strictly paying for the hours worked. Nothing more, nothing less. The rest of the expenses are held by the outstaffing agency.
---
Outstaffing with JayDevs – The Best Option for Remote Hiring
If you're leaning toward an outstaffing strategy, JayDevs stands out as a reputable IT outstaffing company with top engineers on board.
Here's how we can make outstaffing headache-free:
100+ Specialists: We address talent gaps by providing seasoned developers, DevOps and QA engineers, project managers, and other specialists on demand. 
Vetted and Experienced Developers: We offer exclusively senior and lead experts. They are savvy not only in the latest technologies and tools but also prioritize effective communication and project success. 
Access to Niche Specialists: To promote innovations, JayDevs can equip you with rare talents such as solution architects, AWS-certified specialists, and ML/AI engineers.  
Onboarding within 7 Days: After we receive and analyze your request, we provide relevant CVs within 1-2 days. Once you choose your perfect fit, our skilled developers are ready to start working immediately.
Flexible Engagement: Whether you require experts for full-time or part-time involvement, we'll be happy to offer adaptable and personalized solutions. 
*14-Day Trial Period: If the remote specialist truly fails to meet task requirements, we are ready to offer options such as specialist replacement or a refund.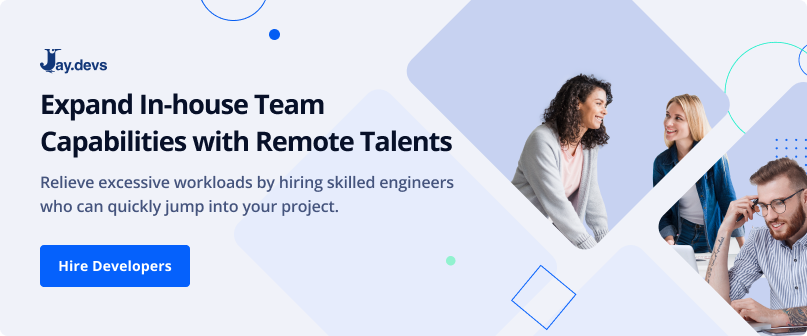 ---
Bottom Line
Ultimately, the choice between outsourcing vs outstaffing boils down to one's unique project requirements.
Software outsourcing perfectly suits fixed budgets and established requirements, being especially beneficial for non-tech companies or businesses lacking internal tech teams and expertise.
The outstaffing model, on the other hand, proves to be highly flexible and budget-friendly for evolving business needs. Whether it is product customization or swift project scaling, outstaffing effectively addresses the challenges associated with talent shortages.
If you have urgent hiring needs, JayDevs is here to help you. We are ready to augment your team with the right specialists within a week and help you solve project challenges. Contact us today and get the ball rolling!