Web developer – is a specialist who creates, changes, and supports websites and web applications.
Many experts may build their own websites using content management systems such as WordPress, Drupal, etc. These experts combine computer tools, HTML coding, and web design skills to build a site that tells a story and fulfills corporate objectives.
In today's digital market, having a high-performing, attractive web site is critical for any businesses. These are online representation of your brand and so you need to create unique sites that can offer excellent user experiences. However, many clients struggle with hiring a skilled web programmer, baffled by questions like:
What kind of web specialist do I need?
How to find top talent?
Should my business outsource or find in-house or freelancers?
What should I ask in the interview to identify the ideal candidate?
Below, we have gathered the most common steps which save your time and money on how to hire a talented web programmer that will fit your web project.
Common steps for how to hire a good web specialist:
---
1. Set your requirements
When reviewing how to hire web developers, you must analyze the scope of work as well as your options for the level of sophistication you require. You'll make the process of finding the right specialist easier if you establish your requirements in advance. This will allow you to swiftly filter potential candidates based on the tech skillset and their experience, that are most relevant to your company. On the other side, everything you'll include in your list of requirements should be intended to help applicants decide if they should apply or not.
Below are some duties you should to consider listing on your post:
Elicits and clarifies project requirements;
Collaborates with web designers and other team members;
Creates website mockups based on the clients' requirements;
Develops application server part;
Integrates data from various server services and databases;
Creates and manages development documentation;
Helps in emergency situations (ex. when the site is down);
Creates and implements different tests to ensure bug-free web apps;
Maintains and improves the website after its completion.
The set of duties depends on the project a specialist is involved in and a role performed. It can lead to the shortening or expansion of the tasks listed above.
---
2. Check out what type of web specialist do you need
Choose your web developer's job profile based on the needs of your project. Think about what kind of specialist you need to find. There are 3 different types: back-end, front-end and full-stack. Each kind is responsible for a certain part of the process, covers different skills and job descriptions.
Frontend-developer – is a person who creates what users can see and interact with on the site (buttons, forms, tables, menus, etc.).
This is done based on the mockups and designs created by web designers. The task of a frontend programmer is to transform images into code that a machine can understand. Moreover, this should be done so that the image looks equally good on different screens of laptops, tablets, and smartphones. Such adaptive design is called a responsive design.
Backend-developer – is a person who works with what is hidden from users' eyes. He builds the functionality of a website with a programming language and then assign it to the front-end code to display it on the website. His stack includes PHP (especially with WordPress), Java, C#, and other programming languages. The objective of a backend programmer is to make a website that will make all the calculations in a fast and secure way.

The key to being able to manage your website effectively is to have it built by a full-stack specialist. Fullstack-developer – is a specialist able to take care of both frontend and backend. Hence, it results in more work hours and higher price rates. This professional is not deeply versed in certain types of development, however his knowledge is sufficient to do the job at an acceptable level.
---
3. Consider the ratio of developers in your team
On average any team should include both full-stack and specialized developers (separately frontend + backend). What matters is the ratio of developers in the team to make the development process more efficient and meet the expected quality.
Here are some tips to help you build a proper team for your needs.
What projects should have more full-stack specialists
Versatility is the main peculiarity of full-stack programmers. Due to the fact that they are well versed in both directions of development, they can easily switch between tasks and adapt to the necessary conditions.
This distinguishing feature of full-stack developers makes them a perfect match for startups where project requirements can practically change on the daily basis.
What projects require more experienced developers
Experienced developers focus on a targeted field and know all its specific details. Such professionals are in demand for projects where specialized knowledge matters a lot.
For instance, the Zolak project where neural nets are leveraged to determine articles of furniture in interiors.
A professional in machine learning who can create the logic of application work is required for such a project. A full-stack programmer may simply not have sufficient knowledge to cope with it.
Hire Web Developers You Need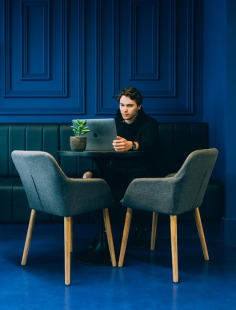 How to share responsibilities with the team
One of the best practices is to use full-stack specialists at the beginning of the project. They create the framework for front-end and back-end engineers. Due to understanding both fields, they can define potential discrepancies beforehand that results in higher project integrity.
This framework is further used by specialized professionals. Since they are focused on certain tasks, they often have more field-specific experience. This enables to solve problems in a more efficient way rather than full-stack developers with the same work experience would do it.
What should be done in case of a really small project
If you have a small project like a company website or a landing page, one full-stack engineer can help to address this need in a better and more economical way.
First, you will pay fewer taxes compared to paying salaries to two specialists. Second, it will be easier for one person to link the frontend and backend parts into one system since negotiation and potential misunderstandings are simply excluded, and the same person will do this job from the inception to the end.
---
4. Searching for your ideal employees
With such a large pool of developers available, it can get confusing to choose the right people for your project. Thanks to the internet, it is now easier than ever to find a web developer. The location where you should look for an engineer depends on how you plan to collaborate with him.
There are primarily three options for hiring web specialists.
Finding Freelancers
Freelance web developers are those people who are not associated with any company. They can work independently and efficiently to complete simple tasks. The problem arises when you want to create complicated web apps. Another big disadvantage of hiring freelancers is that your freelancer can leave the project at any time without notice. Freelance professionals typically promote their services on well-known freelance marketplaces like:
In-house team
If you have a project that will take years to complete and you want to have tight control over your organization, then an in-house team is the way to go. Before you search an in-house team of web experts, keep in mind that this is the most expensive way to build a web application.
To create an in-house team, you'll need to cover the costs of obtaining an office, hiring, providing mandated benefits to your employees, and covering the office's upkeep expenditures. Aside from recruiting web programmers, you will also need to invest time and effort in training the new specialists. If you like to employ an in-house team of web developers, there are a number of places where you can find developers:
Outsource web development to a company like Jaydevs
You can find a qualified dedicated development team to develop your project. The company could be in your local country or in another country. For example, if you live in the United States, you can outsource your web project to Lithuania, India, or Mexico.
Hiring dedicated developers is frequently the best choice because a web development team has the necessary abilities and knowledge to complete a web project successfully. You can search for outsourcing companies on these platforms:
Learn more about where and how to look for an appropriate candidate in our article How and Where to Find Developers who Meet your Needs.
---
5. Prepare questions for the interview
After you've narrowed down your list of potential candidates, it's time to conduct interviews. An interview will provide you with further crucial information about the individual.
To increase your chances of finding your next great employee, pay attention to the following elements during the interview:
Portfolio. Look through the portfolio and talk about some of the previous work experience they have had. Discuss some of the more exciting projects listed on the portfolio and how he or she worked with complex tasks. Talk about the candidate's values and goals. Ask questions about how they built the app, the reason particular functions were added, and so on. If candidates are having difficulty finding solutions, it could show that they were simply providing help on the project and it's not very likely that you can trust them.
Interview questions. An interview of a web developer consists of two parts: theoretical knowledge and practical skills assessment. You will almost probably ask technical questions in order to assess the level of their expertise. Questions to be asked to a web programmer depend on the kind of professional you interview: frontend, backend, or a full-stack expert. Learn more about how to interview web programmers in our dedicated articles: How to Hire Frontend Developer, How to Hire Backend developer, and How to hire FullStack Developer.
Communication skills. Employment isn't about choosing candidates based on hard skills. Designers, developers, development team leaders, QA analysts, project managers, business analysts, and other team members must work closely together since it's important for your projects success. Communication is vital to stay on the same page.
Coding tests. When you have narrowed down the list to just a few candidates with the qualifications, it's a good idea to ask them to complete a coding test. Some examples you can find in our article Top 8 Best Coding Interview Platforms in 2021. Here, you can quickly observe how they follow instructions, manage time and resources, communicate and the quality of their work. Coding tests also give candidates a better understanding of the role they're applying for and gives them a chance to see what kind of problems they'd be solving every day.
---
6. Budget: agree on the exact cost
You've identified what you require, who you should work with, and how to find them. Now it's time to negotiate costs. When it comes to selecting a dependable professional for your project, salary or hourly rate negotiations are unavoidable.
Hourly rates of web developers are mainly determined by two factors: geographical location and type of engineer. We've studied the rates of web specialists on Stackoverflow, Ziprecruiter, Payscale, and Glassdoor and distilled the average data in a single table.
---
All in all
The most important thing when hiring web programmers is to find the balance between frontend, backend, and full-stack experts. Once you find the right one, you will always have that developer there for you. Building those long term partnerships adds much more value than just hiring a service provider for a job. We hope that the answers given in this article will help you find the necessary balance. We can help you turn your idea into reality, take over your existing project, or extend your current development team. Just contact us knowing more.
Our company provides remote

engineers to help develop your products
91%
Customer Satisfaction Index